Fair Book
Documents, Links, Policies, and Regulations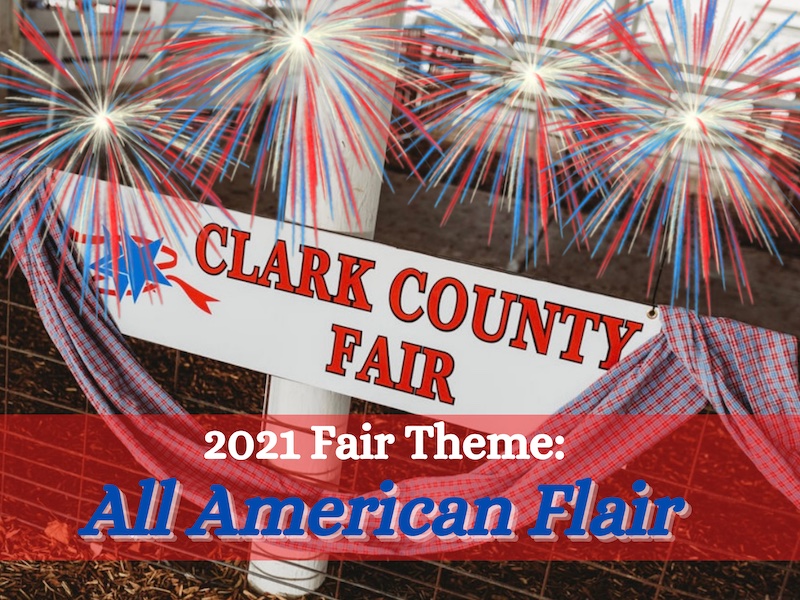 RESERVED PARKING UPDATE: The numbered reserved parking spots AND the camping reserved parking lots have been eliminated at the Clark County Fair. The Clark County Fair Board and the Parking Committee have decided to eliminate these reserved parking spots to make additional handicapped parking spaces accessible and make the camping lots general parking in an effort to increase general parking. Thank you for your understanding.
BAKED GOODS AND DISH-OF-THE-DAY: NO ENTRIES ACCEPTED IN 2021 DUE TO COVID-19 CONCERNS. We WILL BE BACK IN 2022! THANK YOU FOR YOUR PATIENCE AND UNDERSTANDING.
NO PETS PERMITTED ON THE FAIRGROUNDS- 4-H Project dogs and service dogs only.
The 2021 Open Rabbit Show at the Clark County Fair will go on, however due to a clerical error ARBA will not be sanctioning the open show at the Clark County Fair. We hope to have this issue resolved and fixed, so that the show will again be sanctioned for the 2022 year. We do apologize for this error, we are all experiencing some effects from the COVID pandemic and we want to get back to showing. We would love to see everyone come out and show off your buns with us.
LIVESTOCK SHOWS STREAMING LINKS